Going the other way on fares (2011)
Written in early 2011 when another fare increase was planned
Background
As many of you probably know, TriMet is planning on raising fares again this year. In addition, OPAL is wanting transfers to be valid for a longer amount of time, a change TriMet notes would have a negative financial impact.
My proposal
Make the adult fare $2 but only give 1 hour of riding time (and not boarding time)
Charge $2.50-$3.00 for a fare valid for 3 or 4 hours
End the zone system
Make Ticket Vending Machine- and operator-sold fares follow the same policies
Make youth and honored-citizen fares the same and 1/2 the price of adult fares
Put ticket printers in buses to replace transfers
Maybe eliminate 14-day and half-month passes, instead also offering a discount 7-day pass for youths/honored citizens
Possibly offer a discount day pass for youths/honored citizens
Changes to the current fare chart: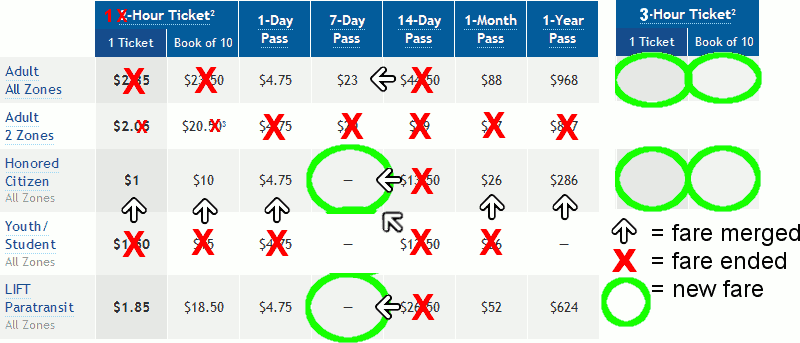 New fare table (does not include LIFT):
| Riding time | Adult | HC/Youth |
| --- | --- | --- |
| 1 hour | $2.00 | $1.00 |
| 3 hours | $3.00 | $1.50 |
| All day | $5.00 | $2.50 |
| 7 days | ... | ... |
| 30 days | | |
| 1 year | | |
Problems with the current system
The zone system is confusing and inequitable
This trip (which requires an all-zone fare)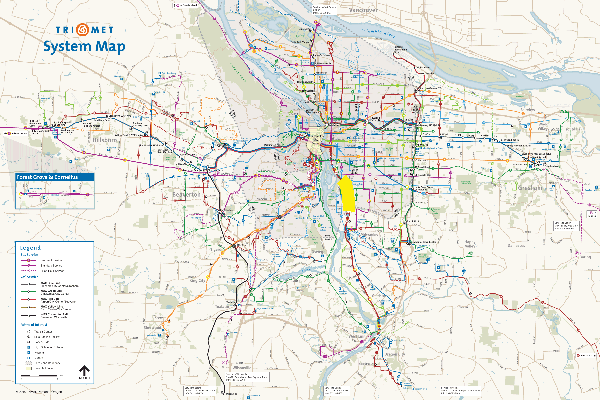 is more expensive than this trip (which requires only a 2-zone fare)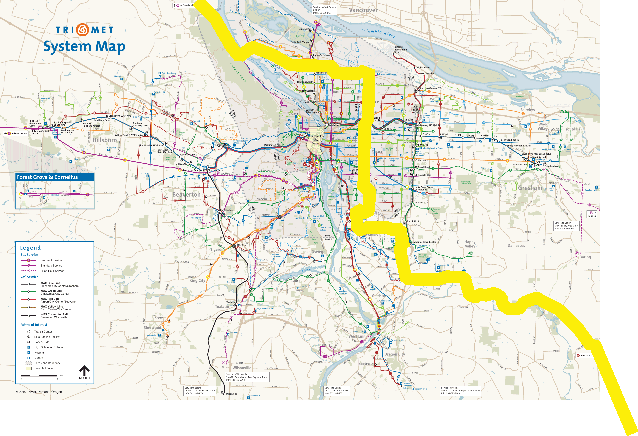 Having to understand it creates an unnecessary hurdle to using transit and scares off potential riders
Wrong transfers issued due to operator mistakes or rider mistakes (not requesting the right zones) leads to fare disputes
It causes unintentional fare evasion when people don't realize they need a higher-priced fare but aren't forced to pay more
It causes intentional fare evasion when people claim they "didn't realize" they needed a higher-priced fare
It leads to lost revenue when people get a transfer with more zones than they paid for and take advantage of it
Someone traveling from zone 1 to the first stop in zone 3 has to pay much more than someone only going one stop less (the last stop in zone 2)
A short ride down McLoughlin from SE 17th Ave to just south of SE Tacoma St (shown in the first map above, and a distance of 1.8 miles) is more expensive than a trip between Sauvie Island and Estacada (second graphic), a distance of almost 50 miles (by using a cross-town bus in zones 2/3)
It is not possible to upgrade fares after changing plans or mistakenly purchasing the wrong zones--a whole other fare must be purchased even though the present one is still usable
People who purchase books of 2-zone fares but want to take an all-zone trip are required to carry exactly 30 cents and find a bus operator (there is no way to buy upgrades from TVMs and card fees would be expensive for such a small charge)
Not sure that TVMs/validators in zone 2 can mark which zones 2-zone tickets are valid in (either zones 1 and 2 or zones 2 and 3)
That being said, the zone system is somewhat of a congestion charge (albeit a poor one), since it's only in effect for radial trips which people are more willing to take transit for, as well as a "toll" for using the MAX tunnel.
Bus transfers are complex and error-prone
The current bus transfers require operators to both set (punch/tear) and check the day code, expiration time and fare type

This creates an avenue for easy fare evasion, as it's hard for operators to check all of them, especially quickly (some passengers let operators only look for a second and then claim they showed it)
Mistakes are easy to make, leading to fare disputes when someone wants to use the transfer
In addition, people can try to use an invalid transfer by claiming the operator who gave it made a mistake

The day code is separated from the time; people can combine a day code portion from that morning with a time portion from a previous day and claim it's the same transfer accidentally torn in half
The transfers are printed on light-weight stock, making it easier for them to get un-checkable (torn, etc)
Books of transfers can get stolen and given away or sold, leading to lost revenue
The transfers allow operators to be generous and give out ones valid for longer than they should be.

This allows some to not have to pay a second time later, leading to lost revenue

Many (at least partial) books of transfers get wasted when operators punch them ahead of time to be ready, but end up not needing all of them (like on commuter runs, where most have a pass)
The "trim" color of transfers is occasionally changed, making ones with the old color unusable.
Expiration times are unequal but can be generous
How long bus transfers should be valid for is vague and unusual (From the TriMet Code: "Bus transfers shall be issued to be valid for one hour past the scheduled end of the trip time for the bus on weekdays, two hours on weekends. The end of the trip is generally the Mall in Downtown Portland, a transit center, or the end of the line")

Some operators might interpret the rule differently, leading to inequalities
Someone getting on at the start of the line gets more transfer allowance than someone getting on near the end, even if riding the same distance.
Someone getting on at the beginning of a short line (such as one from Gresham to Troutdale) gets a shorter transfer allowance than one getting on at the beginning of a long line, even if riding the same distance
Some trips are long; Line 12 has ones that go from Gresham to Parkrose, to Portland, to Tigard and on to Sherwood. There are also long cross-town lines which do not go through the mall.
It does not make sense for times to be based on the scheduled time in a far-away zone where the fare is not valid
Fares purchased from TVMs and validated are always valid for 2 hours, but ones purchased/used first on buses can be valid from 1-3+ hours

Transfer allowance can be very generous (1 hour to end of line + 2 hours beyond that + 1 hour last ride = 4 hours of use)

Someone just wanting to take a short ride down the street (route) has to pay same price as someone using the system for much longer
Its like selling milk but only offering it in gallons, when some consumers just want a pint or quart of milk
The contents of many food packages have shrunk over time, as an alternative to raising prices
People are able to use the same fare for a second trip when they would be willing to/should pay a second fare, leading to lost revenue
2-zone and all-zone fares expire at same time, even though 2-zone ones can't be used as far. Someone can get more rides out of a cheaper 2-zone fare by using less time per ride.
It is not fair for someone to get on with an expiring fare and be able to take a long distance ride
Raising fares affects everybody, even those who don't get/need their worth of riding
(the state income tax rate is 9% but effectively 3.3%; an increase would affect those paying the full 9% as well as those paying much less)
With through-routed ("double-ended") lines, someone can "transfer" from e.g. Line 12-Barbur to Line 12-Sandy even though their fare has expired

Because valid time is only needed to board, one can get on MAX at Lloyd Center with a fare that expired an hour ago and just say they got on in Hillsboro if inspected
Fare and transfer comparison
| | | | | | | |
| --- | --- | --- | --- | --- | --- | --- |
| System/policies | Main city served | Base adult fare | Transfer cost/valid for | req'd for | RTs ok | RT total cost |
| TriMet | Portland, OR | $2.05 | 2 hours; can be 1-3+ | boarding | yes | $2.05-$4.10 |
| King County Metro | Seattle, WA | $2.25, $2.50 peak | 1.5 or 2 hours? | varies? | yes? | $2.25-$5? |
| SFMTA Muni | San Francisco, CA | $2.00 | 1.5 hours | riding | yes | $4.00 |
| LA Metro | Los Angeles, CA | $1.50 | none offered | | | $3.00 |
| C-TRAN | Vancouver, WA | $1.55 | $0.85/1-2 hours | boarding | yes? | $2.40-$3.35 |
| Cherriots | Salem, OR | $1.50 | none offered | | | $3.00 |
| SMART | Wilsonville, OR | $1.25 outside city | none offered | | | $2.50 |
| SMART+TriMet | Wilsonville/Tigard | | | | | $4.55-$6.60 |
| RTD | Denver, CO | $2.25 | 1-2 hours | boarding | no | $4.50 |
| UTA | Salt Lake City, UT | $2.25 | 2 hours? | varies? | yes? | $2.25? |
| DART | Dallas, TX | $1.75 | 1.5 hours, rail only | riding | rail only | $3.50 |
| Metro Transit | Minneapolis, MN | $1.75, $2.25 peak | 2.5 hours | varies | yes | $1.75-$2.25 |
| CTA | Chicago, IL | $2.25, *$2.00 bus | *$0.25/2 hours, max 2 | boarding | yes? | $2.25 |
| MARTA | Atlanta, GA | $2.00 | *3 hours, max 4 | boarding | no | $4.00 |
| WMATA | Washington, DC | $1.50, rail varies | *2 hours | boarding | yes | $1.50 |
| SEPTA | Philadephia, PA | $2.00, *$1.55 | $1.00 each, max 2/? | boarding | no | $3.10 |
| Port Authority | Pittsburgh, PA | $2.25 | $1.00/3 hours | varies? | yes | $3.25 |
| NYCTA | New York, NY | $2.25 | 2 hours, max 1 | boarding | no? | $4.50? |
| Metro Transit | St. Louis, MO | $2.00, $2.25 rail | $0.50-$0.75/2 hours | varies? | yes | $2.75 |
| MTA | Baltimore, MD | $1.60 | none offered | | | $3.10 |
* = requires fare card or token; ? = best guess; RT = return ride on same bus route;
RT cost w/return starting but not ending <2 hours later
Of the agencies reviewed, TriMet has the 2nd- to 3rd-lowest fare for a comparable round trip
Benefits of proposal
Fare changes
Can increase revenue


People fully utilizing current transfer allowances would have to pay more (for riding beyond 90 minutes after fare purchase);
People whose transfer is going to expire before the end of their ride would have to pay again
Eliminates fare zone evasion and use of transfers that weren't really valid upon boarding
Can increase ridership due to lower fares for short rides
Can increase ridership due to simpler fares

Gives OPAL the 3-hour transfer they want without requiring people who don't need it to pay for it
Prevents fare disputes, a major operator issue, over zones
Reduces the fare for short rides
According to Page 9 of the Transit Investment Plan, "most trips by automobile are short, so it is important for transit to attract these trips in order to increase ridership and meet RTP goals, particularly for transit ridership to Regional and Town Centers and along Main Streets". Making it cost even more just to board a bus does not encourage this to happen.
Essentially replaces the zone system (longer distance trips=longer time=need for fare valid for longer time)

Zones are arbitrary but everyone understands time

Removes the need for zone upgrades
Reduces the number of ticket types of that must be printed and sales outlets must stock
Ticket printers
Reduces fare evasion by making transfers easier to check and reducing errors, further increasing revenue
Makes bus operators' (and fare inspectors') jobs easier

Less opportunities for disputes, a major operator issue
Tickets easier to read and interpret
Relieves bus operators of having to set, punch and remove transfers
(they would only need to occasionally tend to the printer)
This can be seen as benefit in contract negotiation (a "give" by the employer)

Decreases costly incidents caused by fare disputes
Shows taxpayers, riders and employees that TriMet is serious about fare collection
No need to buy and store different-colored transfers, resulting in economies of scale
Printers can possibly use same stock as TVMs, further resulting in economies of scale
Eliminates wasted books of transfers (but they would be kept as backup)
Allows tracking of cash fares (though without also adding validators, this would count tickets on purchase and use)
Can allow printing refund receipts for overpayment or purchase of tickets for future use
Could be installed along with the Bus Dispatch System replacement (which will also require bus modifications and electrical work) to save costs
Printed tickets ensure consistency in expiration times between different bus operators, and between operators and TVMs
Other ideas
Give out "late vehicle" slips for extra boarding when connections are missed (like New York City Subway block tickets; since operators would not be able to replace transfers with ones valid for longer)
Possibly be more lenient honoring transfers when service is low
Offer discount fares for low-income riders like some other systems do (including C-TRAN)